Viking Bekina Thermolite Insulated CSA Composite Rubber Boots Z090GG
Shoe Size
10
11
12
13
14
6
7
8
9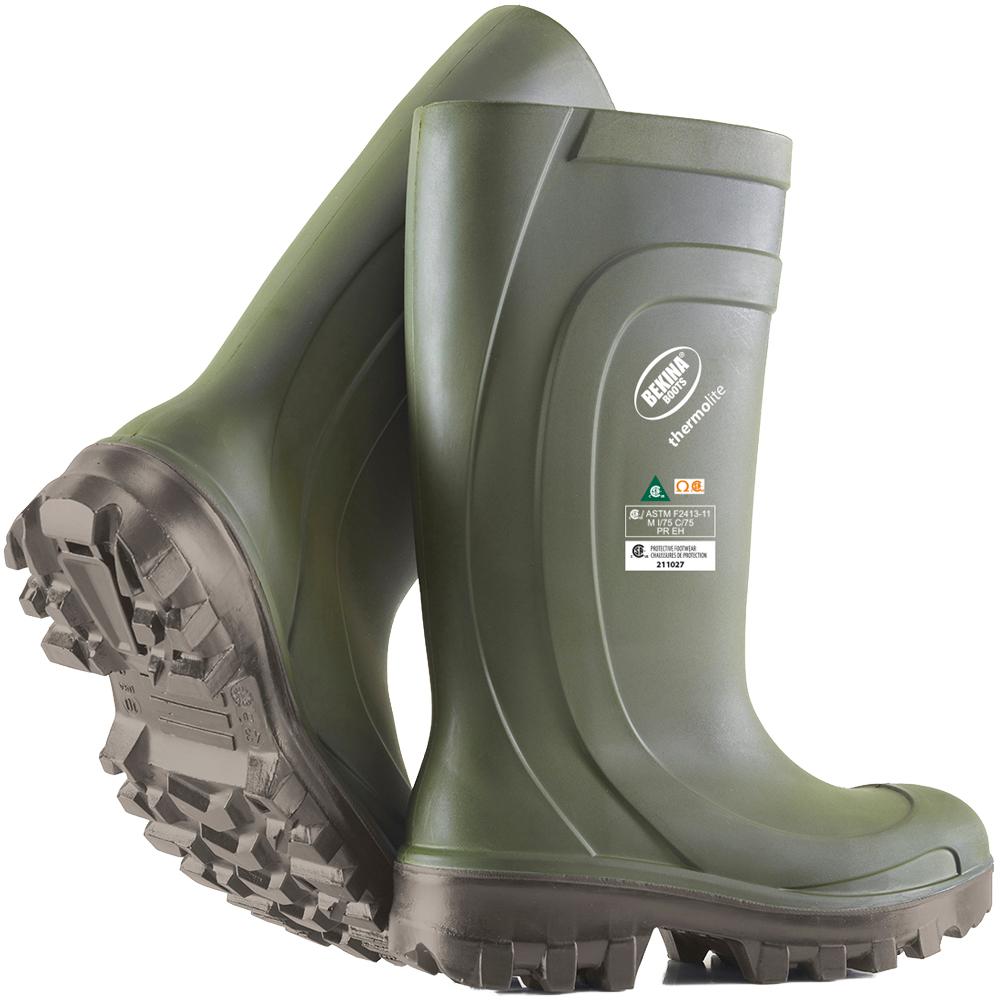 Thick polyurethane Compound rated to -50°C / -58 °F
Grade #1 Composite toe and mid sole
CSA Z195-14. CSA Omega 18KV Electric Shock Resistant
15″ Tall
Extra wide toe with shock-absorbing, washable footbeds
Anti-bacterial /abrasion-resistant lining
Aggressive Soles for added traction
Free Insoles for every pair
Z090GG Bekina Thermolite Insulated CSA Composite Rubber Boots
Keeping your feet warm is always important, finding insulated boots that do just that, is even more important. The Z090GG Bekina Thermolite Insulated Rubber Boots are constructed to provide that extra thermal layer, with protection up to -50°C your feet will be protected from all of the harsh elements.
Bekina Thermolite Features
Lightweight polyurethane construction
Extra wide composite toe construction
Composite Mid Sole
Rugged ergonomic sole
15" tall
Included Bekina Insoles
Bekina boots
Excellent boots sizing is spot on. This is the only boots my husband and son will wear in the winter very warm dry boot. Fast delivery and free shipping I will order again
Best Ruber Boots Ever
Its the second pair of these boots that I've had, the first pair lasted about 6 years. I wear them every winter and do construction in them and I did take good care of them also.
They are very warm and comfortable!
Great service too from Refinery work wear, they shipped out very fast considering it was holiday season it was pretty much 1 day from Ontario to BC once the order was picked!
And its even free shipping !! :)
I will definitely order from them again
Ordered my actual size and they were perfect! Perfect in every scenario I have worn them in.
Bekina thermolite z090
Only wore them twice so far since last week . Heavy to pick up bit seem light on the feet. Both days were warm out and feet didnt sweat. Tracking is amazing . Around ankles on front of leg is tight but may loosen as they break in. Added another pair of insoles as the ones provided were thin for me . I take an 11 but bought the 12 and am happy that I did.
FREE SHIPPING
Free shippingon orders of $149.99 or more
In-Store Pickup
Buy online, pickup in store Sarnia.
Some resrictions apply contact us first
Want Great Discounts?
Sign up for our newsletter and save
Free shipping
on orders of $149.99 or more